1.Description
Get some vintage and mechanical design to your 2m2 working space. Lofree Knight Collection brings you the cool sense of fashion technology, including a Knight black mechanical keyboard, a black stylish mouse, a minimalist calculator, a wooden palmer, and a reversible mat. Additionally, a memorable souvenir - C. Medal keycap will also be provided. With a mystery black color and metallic texture, its stylish design here helps your dull 2m2 working space to be more iconic.
A set under vintage and metallic color design is good-looking office tools with multiple functions for your 2m2 working space. l Metallic black mechanical keyboard has adjustable brightness at 4 levels of the LED monochrome backlight. Typos can be avoided under the function of a full N-key rollover. All systems and devices are compatible to help with multi-task in 2m2 office desk.

Stylish mouse with buttons in the shape of a wavy potato chip helps you switch between Windows 10, Mac, and iMac system through 2.4g and Bluetooth more efficiently in low battery consumption.

A minimalist calculator with dot keys only requires an AAA battery to work for 500 hours. It also has a clearly displayed screen and scientific layout.

A palmer, wooden reversible mat for the retro keyboard and a memorable keycap keep your 2m2 working space comfortable and relaxing.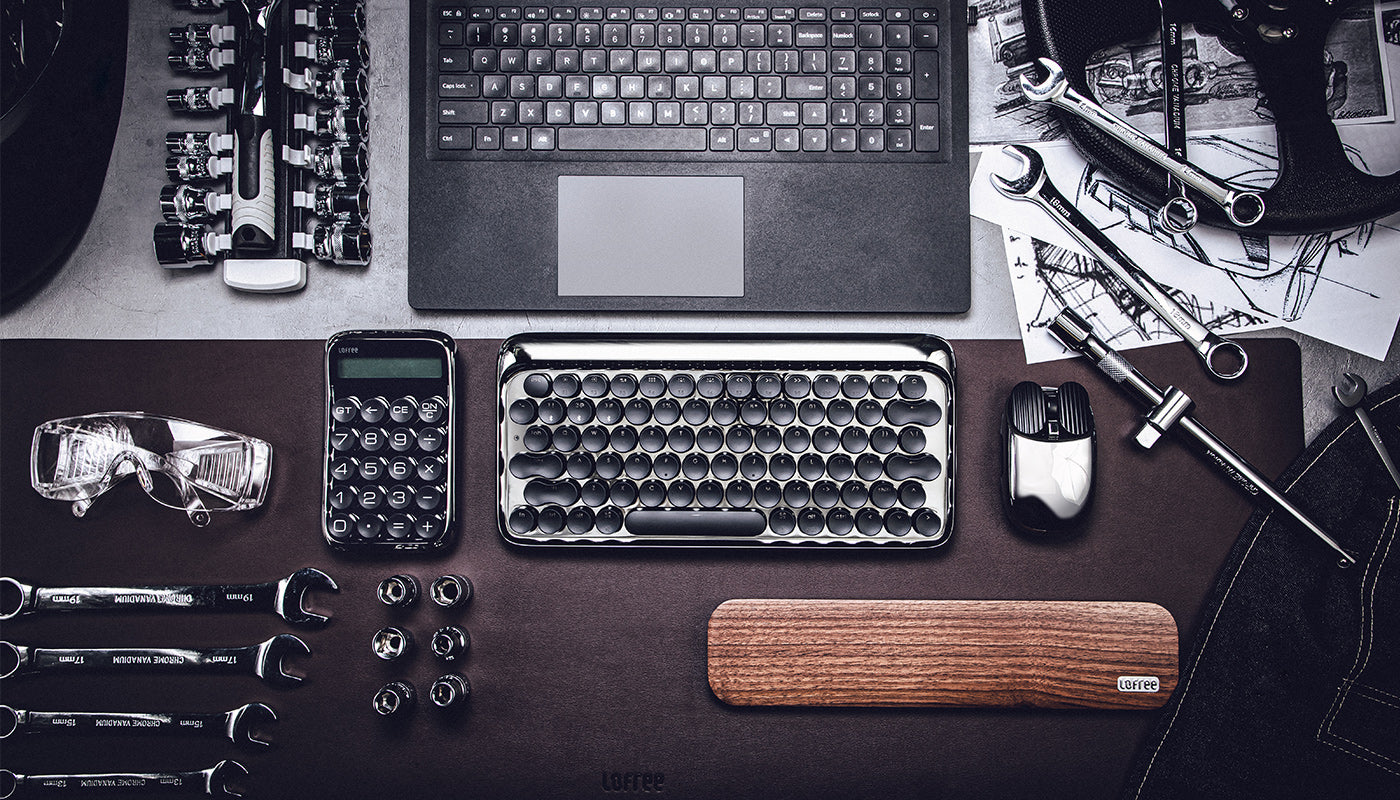 2. Knight Spirit behind Knight Collection
Lofree offers Knight Collection with different office tools under the design of the Knight series. The Knight Bundle can decorate your 2m2 working space with the simplest color but a vintage unique style. The iconic mystery black with metallic and mechanical visual effects brings you the metallic color feast to enrich the plain official elements on your office desk. Be the black knight in your 2m2 working space.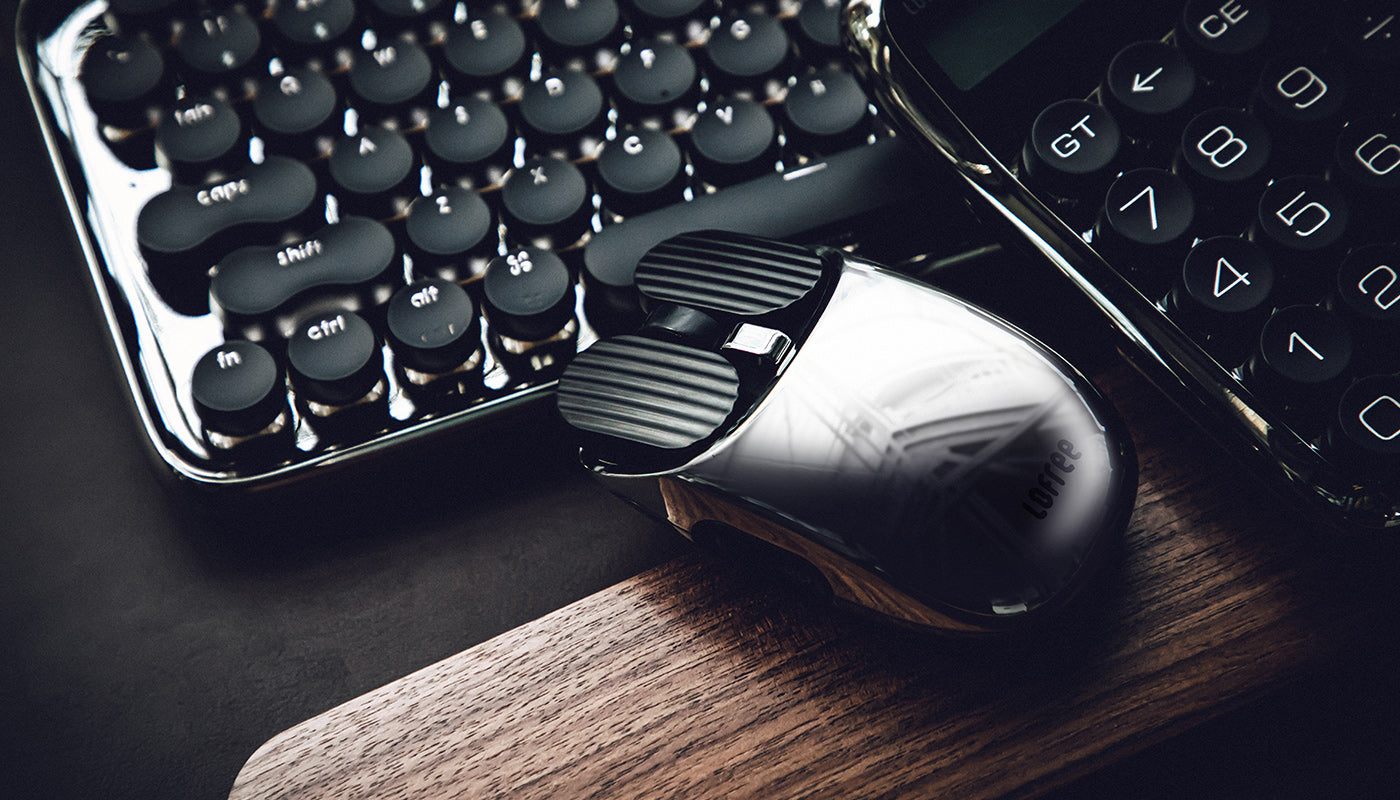 3.The Cool Metallic Black Keyboard in Your 2m2 Working Space
Knight black mechanical keyboard with mechanical texture and the metallic visual outcome can help your dull daily work with good but minimalist functions and unique appearance. Mechanical retro dot keys bring you more fun while clicking. With its scientific angle and well-designed layout, Knight black mechanical keyboard is here to boost your work efficiency and bring you motivation.
Metallic and mechanical keyboard with a mystery black with 79 vintage dot keys

 Full N-key rollover

 4 levels of the white LED monochrome backlight

4000mAH lithium battery

Intelligent sleep mode

Wired/wireless connection is available for smartphones, laptops, and tablets with systems of Windows, IOS, or Android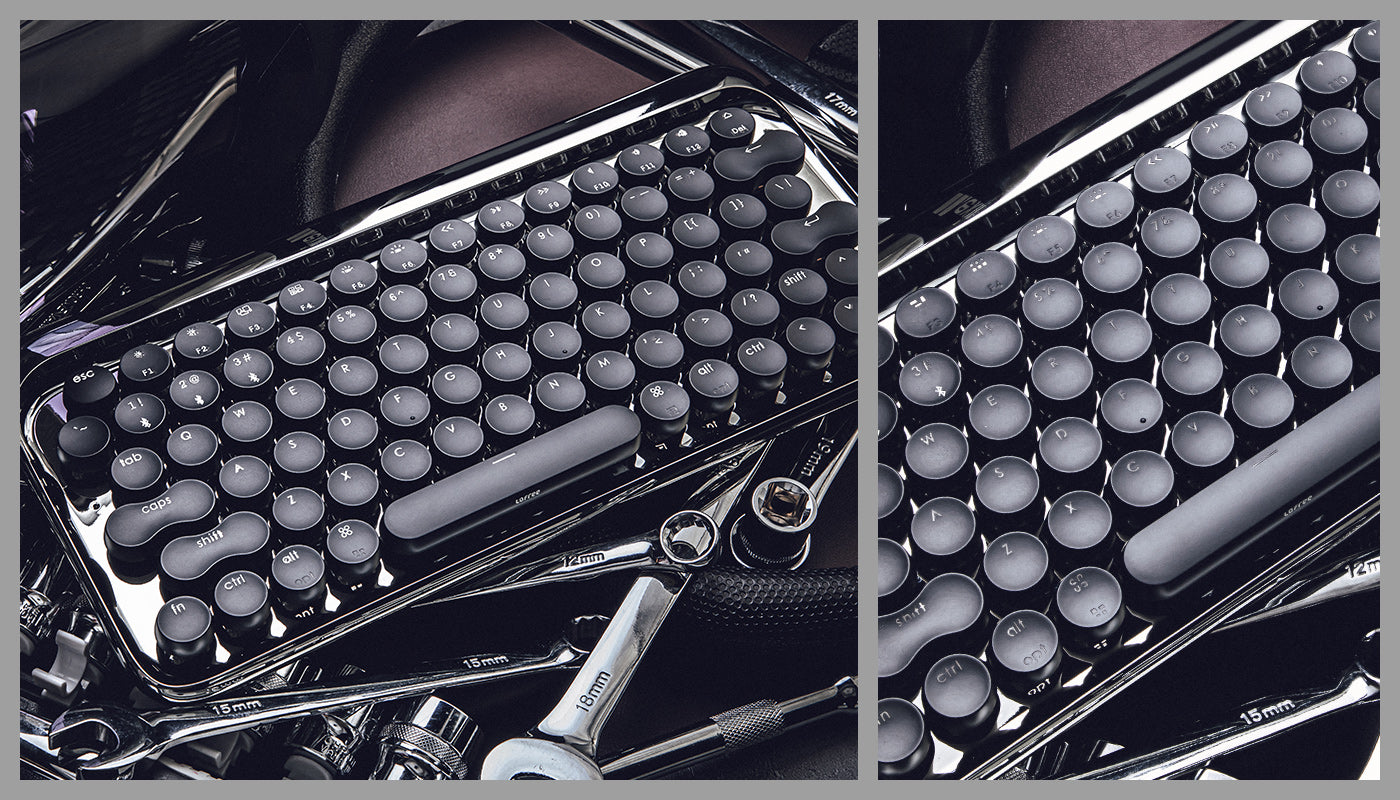 4. Your Convenient Black Maus Mouse in Your 2m2 Working Space
Lofree Bluetooth Mid-Summer Maus Mouse has a lightweight and portable design. Its mouse buttons are inspired by wavy potato chips that can prevent you from slipping. The satisfying clicking sounds entertain you from your daily dull work. Take the Knight Bundle of mechanical mouse and keyboard and let the mystery get into your 2m2 working space.
Multi-finger gesture supporting
Connects to 2 devices simultaneously by 2.4g and Bluetooth
Adjustable sensitivity: 800 to 3600
 A 3-minute charging for 8 hours of work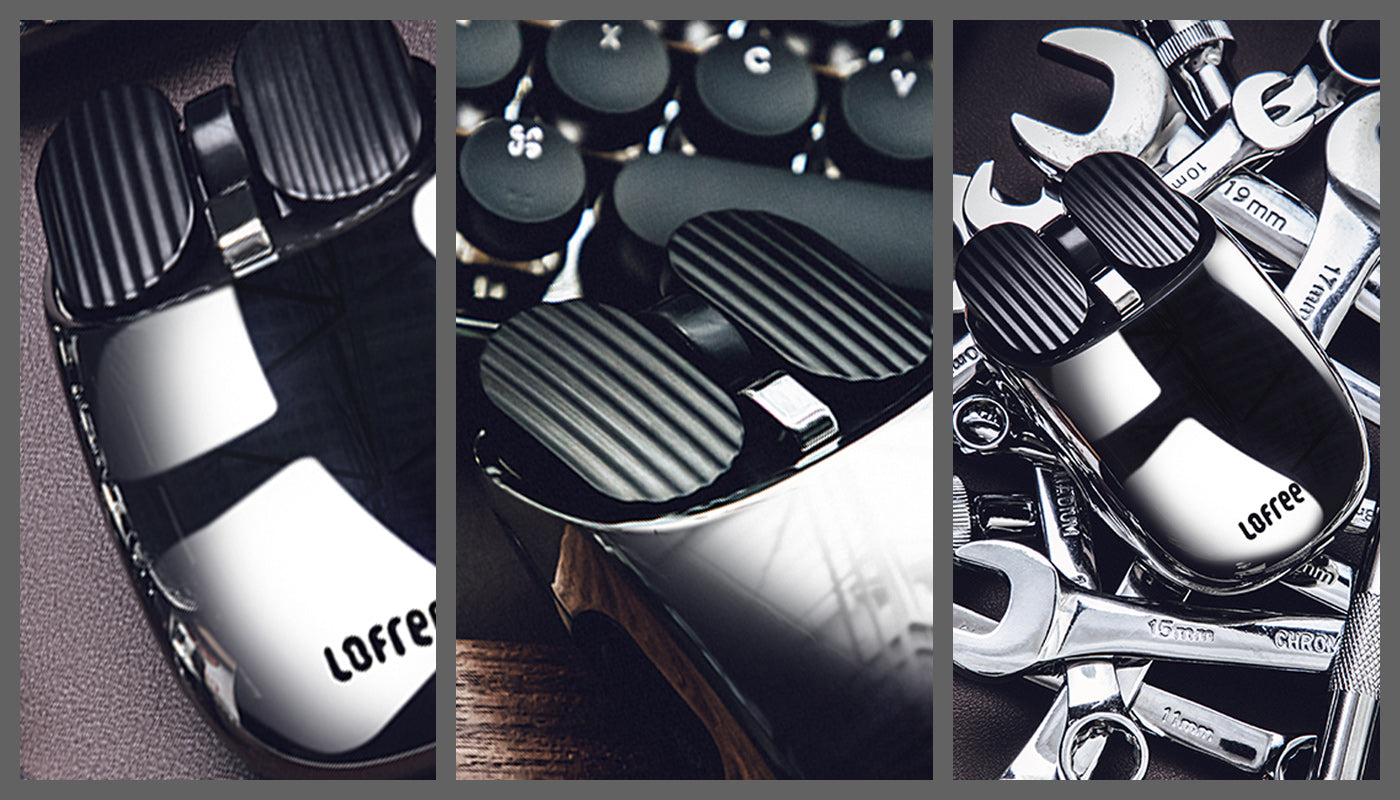 5.Minimalist Metallic Calculator
Lofree is pleased to introduce the calculator of the Knight Bundle. EH113P Calculator Knight expresses a minimalist appearance with useful functions. Combined with cute dot keys, the calculator with non-faded color. It's the best helper for your day-long work and to relieve your tiredness as much as possible.
Scientifically suitable layout
Displayed screen with10 digits
Low power consumption: an AAA battery for 500 hours
Intelligent sleep mode
Easy to use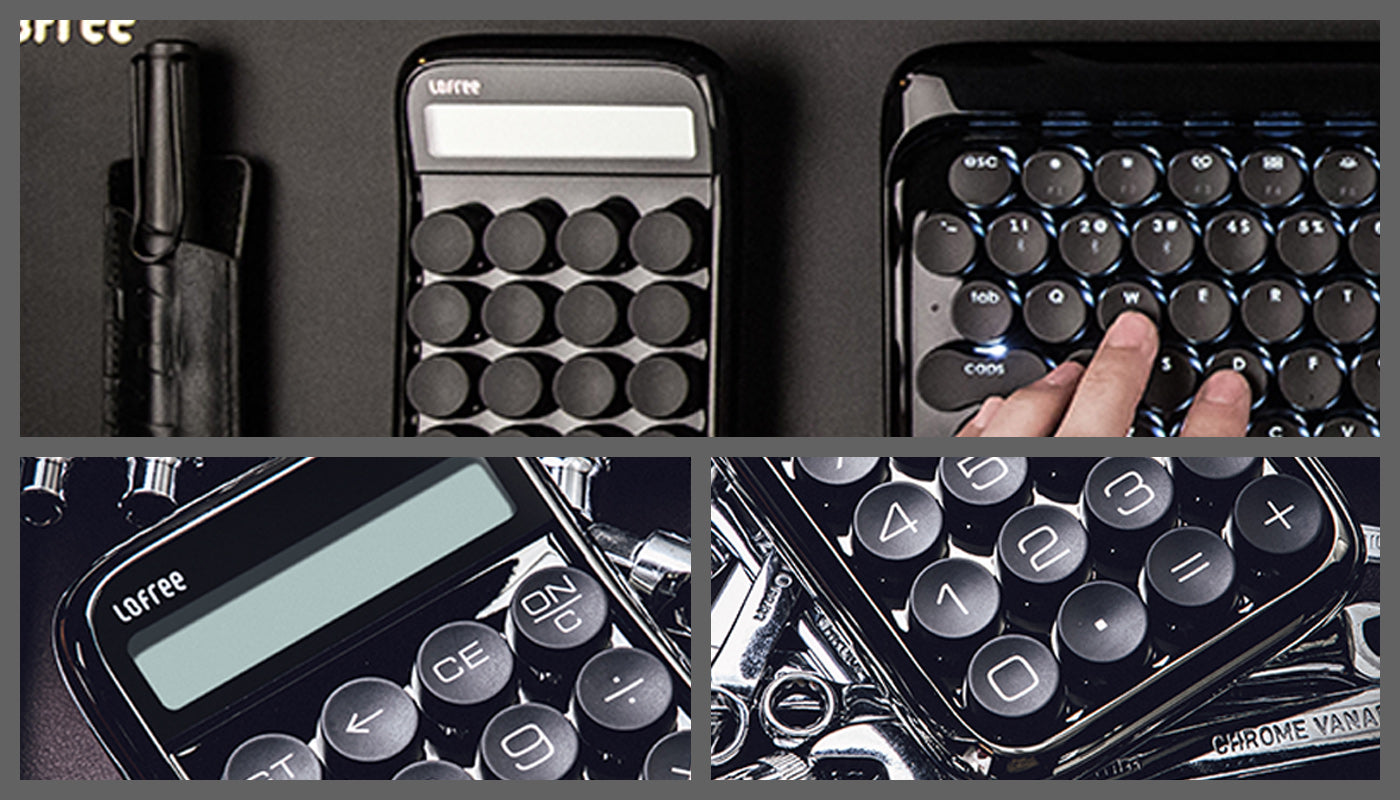 6. Make Your 2m2 Be Your Comfort Zone
Lofree sincerely provides 3 useful tools which are a palmer, a reversible mat, and a C. Medal keycap to increase your comfort while using Knight Collection in your 2m2 working space. Other than continuing the similar metallic color code from the Knight Collection, the palmer and the reversible mat use a new concept to soften the cold mechanical atmosphere in your 2m2 working space. A memorable Lofree keycap even improves the connections between you and Lofree. It not only makes you more comfortable by using the collections but also brings you the visual effect.
A palmer with a perfect angle matches the black mechanical keyboard well.
A reversible mat helps the mouse move smoothly and fluently.
C. Medal keycap, a souvenir with heartfelt design, is sincerely offered by Lofree.
7. Your Good Minimalist and Metallic Helper
Knight Collection with various tools is here to boost your productivity with its minimalist and useful functions. The collection meets all your basic needs anywhere in your 2m2 working space. Knight Collections is here to comfort you and improve your motivation and fun during working. Keep your day-long good mood with Lofree Knight Collection for that it has what you need for your 2m2 working space.
Package Content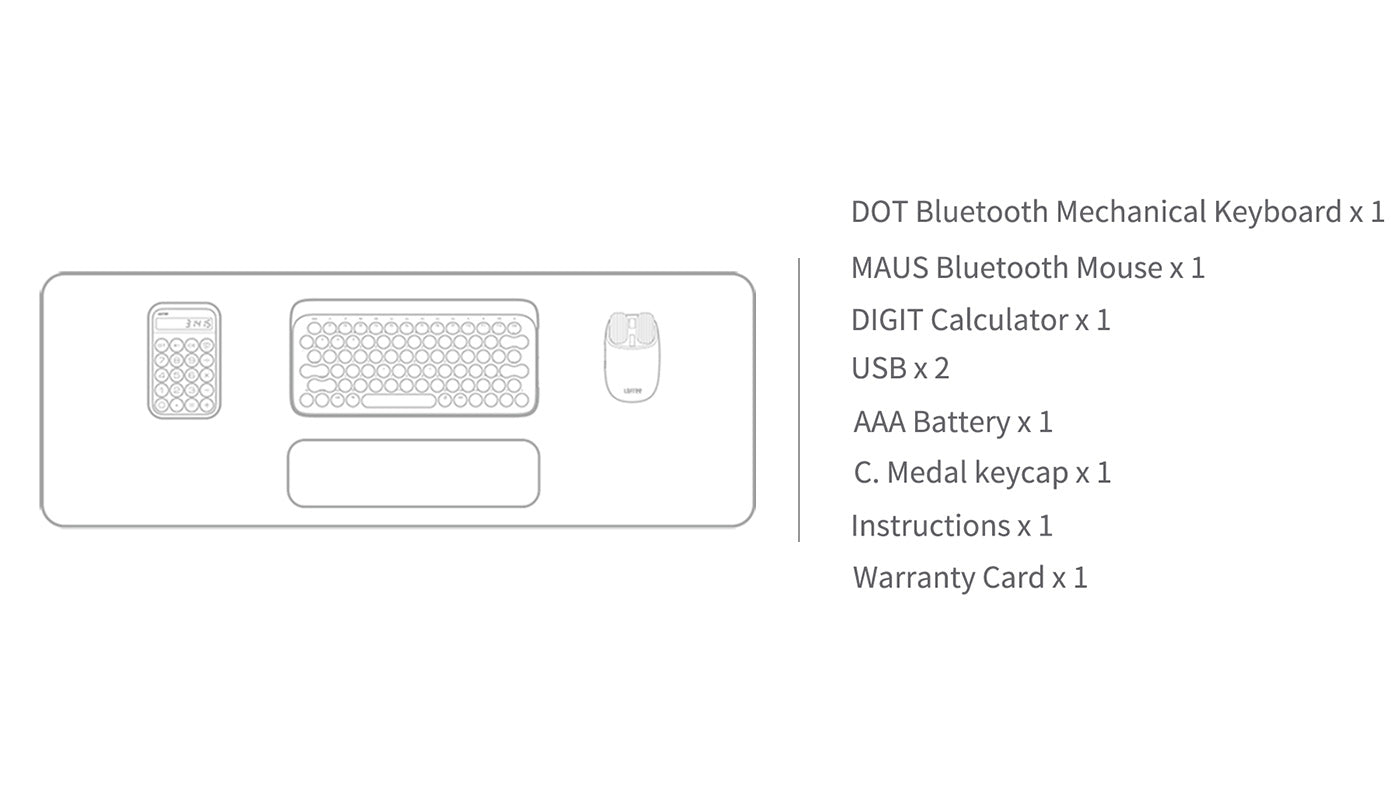 EH112S Bluetooth Mechanical Keyboard Knight

Product Information

| | |
| --- | --- |
| Brand | Lofree |
| Product Name | Bluetooth Mechanical Keyboard Rose Gold |
| Model | EH112S |
| Keypads | 79 keys, Mechanical shaft |
| Backlight | LED white backlight |
| Dimensions | 306x144.5x30.6mm |
| Weight | 810g |
Battery Information
| | |
| --- | --- |
| Battery Life | 4000mAH |
| Charging Duration | 5 hours |
| Port | Micro USB |
Software Support
| | |
| --- | --- |
| Systems | Windows, Mac/IOS, Android for PC, smartphone, and tablet |
| Mode | Wired & Bluetooth |
| Device Name | DOT@LOFREE |
Package Content
EH115 Bluetooth Mouse Knight

Product Information
| | |
| --- | --- |
| Brand | Lofree |
| Product Name | Maus Chips Bluetooth Mouse Knight |
| Model | EP115 |
| Dimensions | 108x63x34mm |
| Weight | 98g |
| Port | Micro USB |
Software Support
| | |
| --- | --- |
| Systems | Windows 10, Mac, iMac |
| Bluetooth Version | Bluetooth 4.0 |
| Mode | Bluetooth/2.4G |
| Device Name | DOT@LOFREE |
| DPI | 800/1200/1600/2400/3600 |
Package Content
EH113P Calculator Knight

Product Information
| | |
| --- | --- |
| Brand | Lofree |
| Product Name | Calculator-Knight |
| Model | EH113P |
| Dimensions | 48xW 92xH 35mm |
| Weight | 162g |
| Keys | 20 keys, Mechanical keys |
| DC | 1.5V |
Package Content
Reversible Mat Knight

Product Information

| | |
| --- | --- |
| Brand | Lofree |
| Product Name | Reversible Mat Knight |
| Model | AH105 |
| Dimensions | 900x320x2.5mm |
| Texture | PU leather |
| Keys | 20 keys, Mechanical keys |
| DC | 1.5V |
Package Content