Accompany You With Mid-Summer
You don't have to wait a year for next summer. Lofree Four Seasons - Mid-Summer always accompanies you. 5 amazing items in one: a green wireless mechanical keyboard, a wavy potato-shaped wireless Maus Mouse, a dot calculator, a reversible mat, and a Palmer.
Your Best Company In Office Hours
Enjoying your boring work is never easy. Unless you have the Lofree Four Seasons - Mid-Summer Accompany. Covering with a vintage green color following Morandi color schema, don't get surprised by Lofree's creative color design.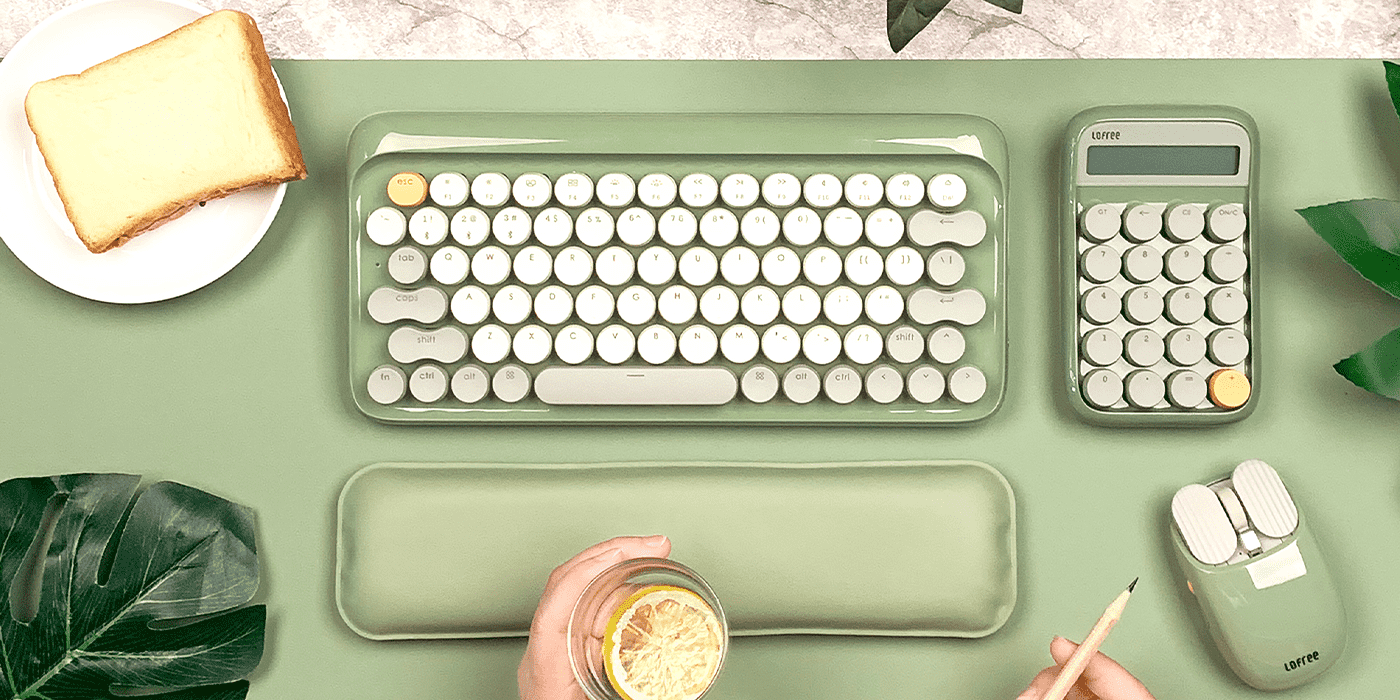 *Pre-Summer: Mid-Summer Mechanical Keyboard - A Great Starting Point
A retro green mechanical keyboard like ever before. Soft and comfortable visual effects make your desk setups more interesting!
79 vintage Blue Switches with full N-key rollover
White LED monochrome backlight with 4 adjustable brightness levels
4000mAH lithium Long Life Battery
Compatible with multi devices and systems including: wired or wireless connection for smartphones, laptops and tablets with Windows, IOS, or Android system.
Intelligent sleep mode, save energy automatically when you don't use it.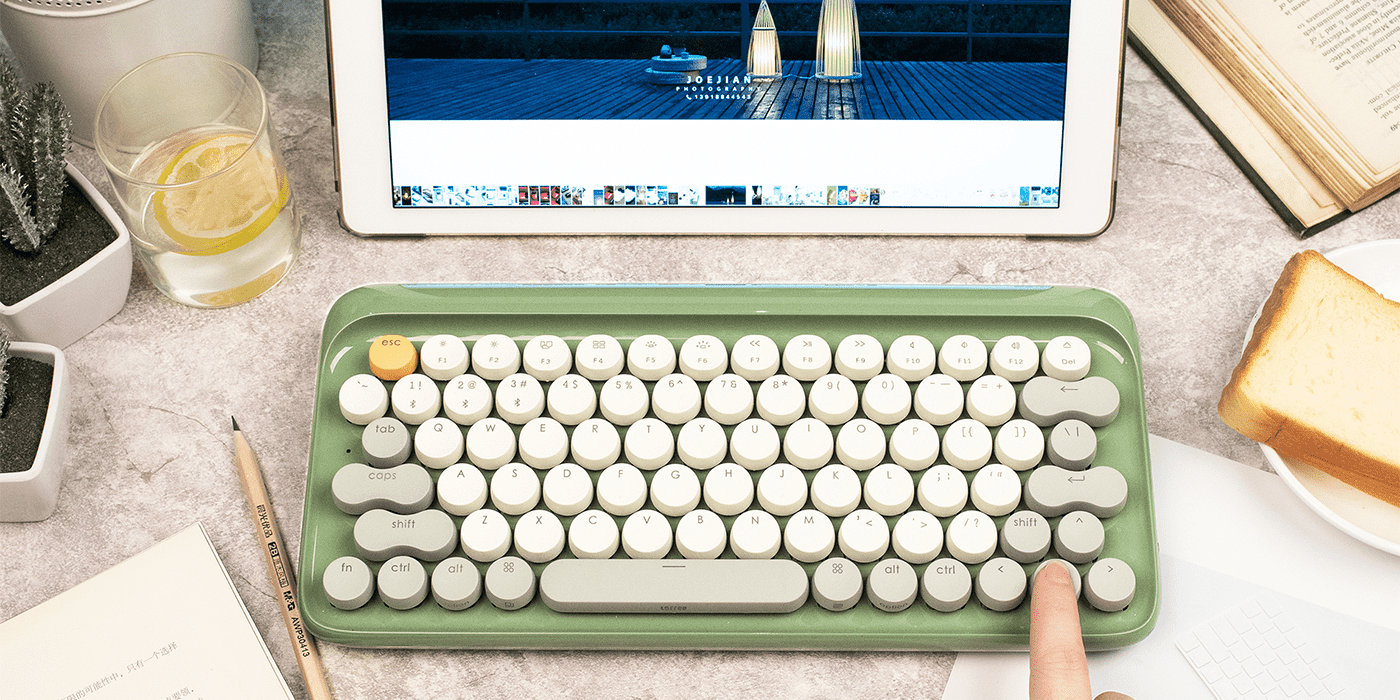 *Full-Force: Mid-Summer Wireless Mouse - Your Best Enjoyment
A practical mouse boosts your productivity. Inspired by wavy potato chips, the buttons prevent slip and 100% supportive for your high speed working.
Multi-finger gesture supported

Connects to 2 devices simultaneously via 2.4G and Bluetooth

Adjustable sensitivity from 800 to 3600

A 3-minute charge lasts for 8 hours of work

Compatible with Windows 10, Mac, and iMac systems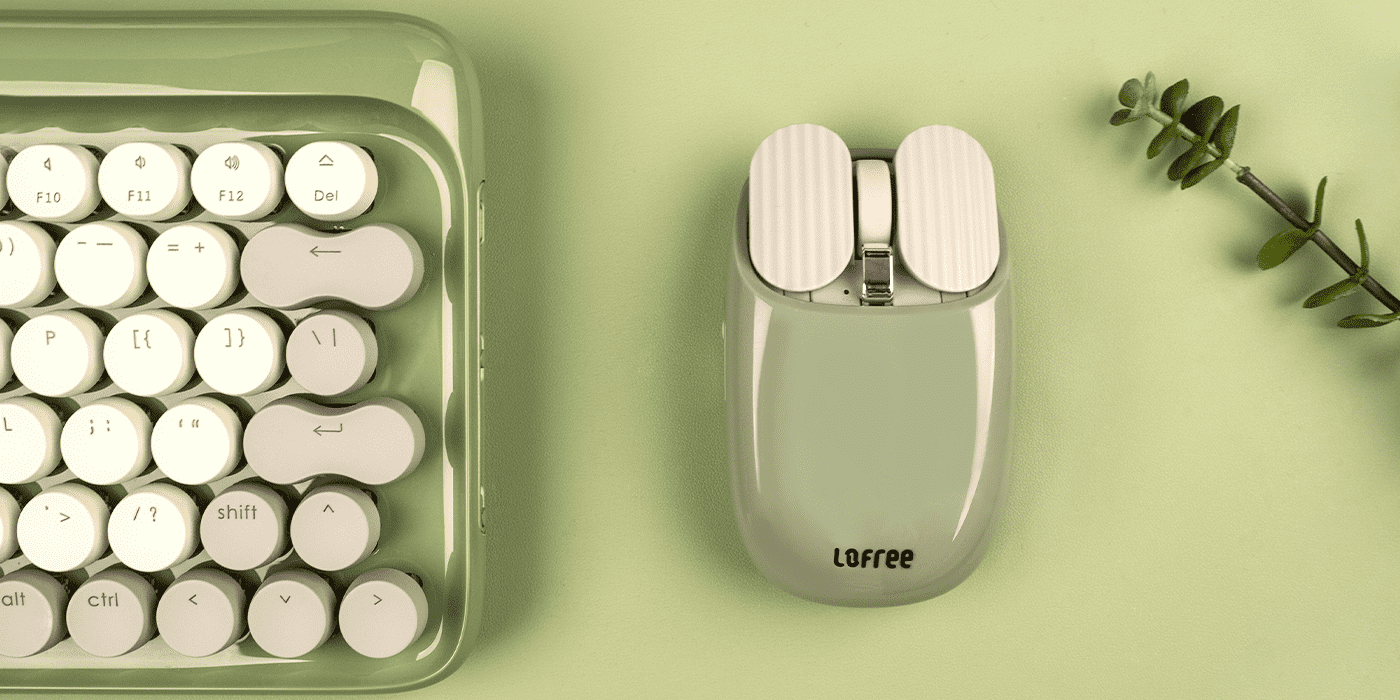 *Mid-Summer: Vintage Minimalist Calculator - Tik Tok Your Summer Time
Boring mathematical things could be fun! Mid-Summer Calculator with cute and round dot keys brings you to a new world via calculating.
Scientifically easy to use layout

Screen display with 10 digits

Low power consumption (an AAA battery lasts for 500 hours)

Intelligent sleep mode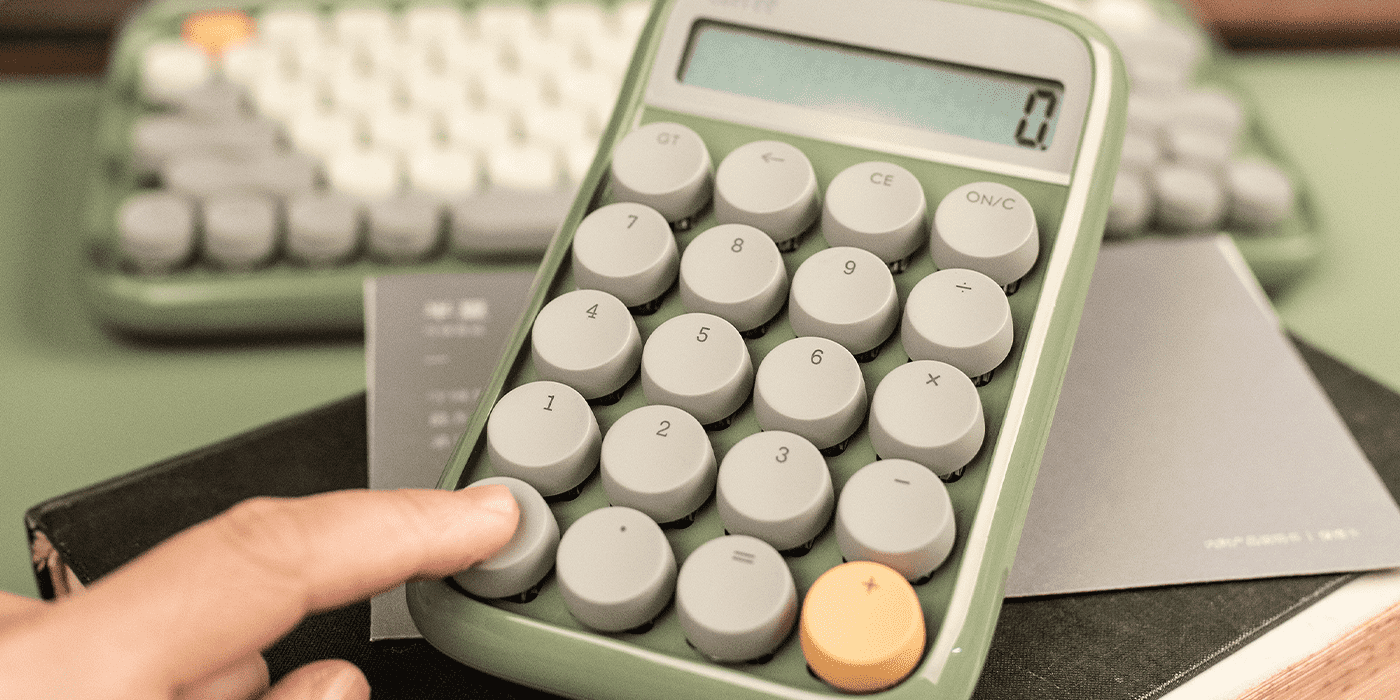 *Late-Summer: Mid-Summer Reversible Mat - All Will Fade Away
Double the smoothness of your Mid-Summer Maus Mouse by applying Mid-Summer reversible mat. With vintage Morandi green color, summer still accompanies you even the season changes.
*Ending: Mid-Summer Green Palmer - Autumn Will Be On Its Way
Fatigue muscles won't be your obstacles anymore while working with Mid-Summer Palmer. With scientific angles, get your wrists some rest during your high-speed typing!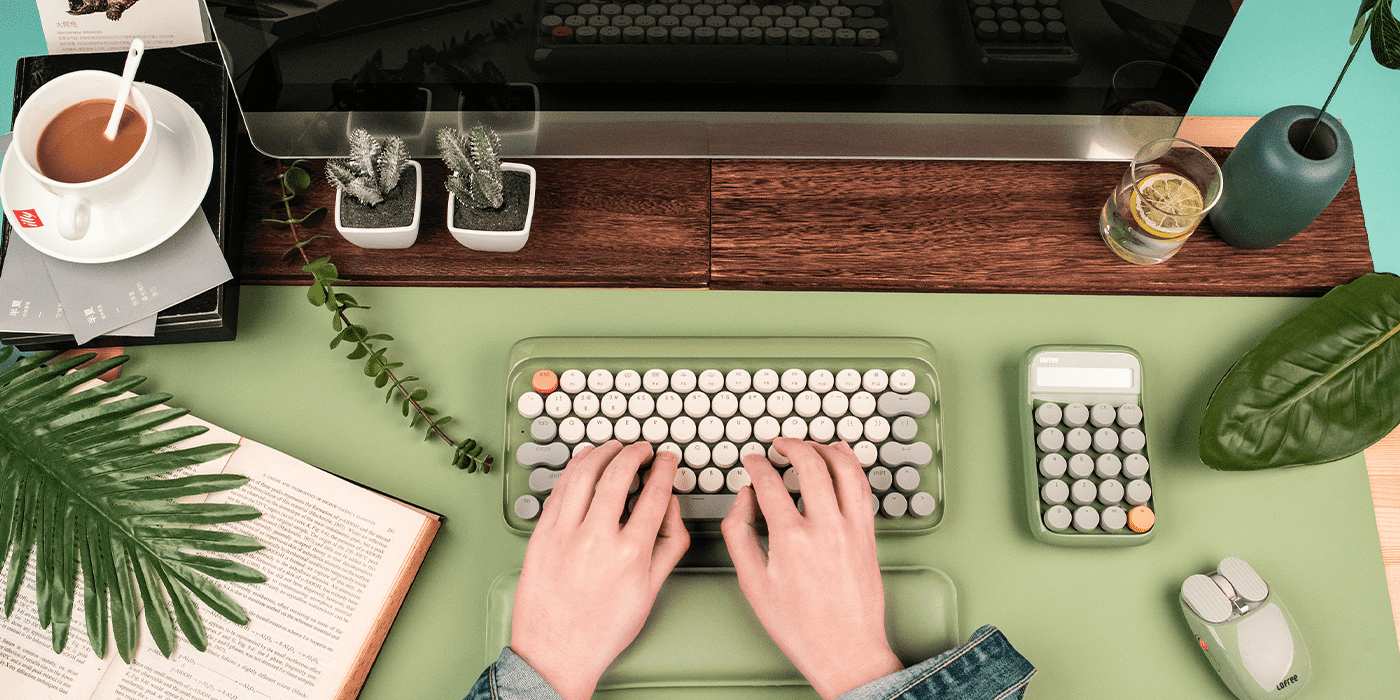 EH112S Bluetooth Mechanical Keyboard Mid-Summer
Product Information
| | |
| --- | --- |
| Brand | Lofree |
| Product Name | Bluetooth Mechanical Keyboard Mid-Summer |
| Model | EH112S |
| Keypads | 79 keys, mechanical axis |
| Backlight | LED white backlight |
| Multimedia Keys | 12 |
| Dimensions | 306x144.5x30.6mm |
| Weight | 810g |
Battery Information
| | |
| --- | --- |
| Battery Capacity | 4000mAH |
| Charging Duration | 5 hours (under USB3.0) |
| Port | Micro USB |
Software Support
| | |
| --- | --- |
| Systems | Windows, Mac/IOS, Android for PC, smartphone, and tablet |
| Mode | Wired & Bluetooth |
| Device Name | DOT@LOFREE |
Package Content
EH115 Bluetooth Mouse Mid-Summer
Product Information
| | |
| --- | --- |
| Brand | Lofree |
| Product Name | Maus Chips Bluetooth Mouse Mid-Summer |
| Model | EP115 |
| Dimensions | 108x63x34mm |
| Weight | 98g |
| Port | Micro USB |
Software Support
| | |
| --- | --- |
| Systems | Windows 10, Mac, iMac |
| Bluetooth Version | Bluetooth 4.0 |
| Mode | Bluetooth/2.4G |
| Device Name | MAUS@LOFREE |
| DPI | 800/1200/1600/2400/3600 |
Package Content
EH113P Calculator Mid-Summer
Product Information
| | |
| --- | --- |
| Brand | Lofree |
| Product Name | Calculator Mid-Summer |
| Model | EH113P |
| Dimensions | 148xW 92xH 35mm |
| Weight | 162g |
| Keys | 720 keys |
| DC | 1.5V |
Package Content

Reversible Mat Mid-Summer
Product Information
| | |
| --- | --- |
| Brand | Lofree |
| Product Name | Reversible Mat Mid-Summer |
| Model | AH105 |
| Dimensions | 900x320x2.5mm |
| Texture | PU leather |
Package Content