1.Description
Get your 2m2 working space more elegant and vintage with Mid-Summer Bundle Expectation which contains an EP203 Poison Speaker, an EP502 Candly Ambient Lamp, and a Mid-Summer Aroma Stone. A gentle color schema under a warm color tone from Morandi brings you the best visual effect. With Mid-Summer Bundle in the 2m2 working space, memories of the good time are also worth pondering.
The lightweight and portable design of the Mid-Summer Bundle fits any circumstances in your 2m2 working space.2

Lofree Poison Bluetooth Speaker supports 10m wireless transmission and 6 hours of work with a cell capacity of 2000mAH.

Brightness adjustment of Lofree Candly Lamp is shown as a percentage and can change with the Bluetooth Speaker's rhythm.

Lofree Aroma Stone meticulously designed by Lofree special recipe is about 140g each with aroma lasting for 180 days.
2.Mid-Summer Expectation is Waiting for You
Bring some fun to your 2m2 working space simply with Mid-Summer Expectation. Lofree uses the retro green color to satisfy you by a soft Morandi color code while staying alone. You can enjoy the pure light and sounds in a good atmosphere through this heartfelt design.
3. Sing an Addictive Rhythm by Bluetooth Poison Speaker
Lofree Poison Bluetooth Speaker with Morandi color schema brings natural and soft sense through using. Its retro classic design brings you back to old times and relives the good times in the memory. Grab one and you will be addicted to the rhythm Lofree Poison Speaker sings.
Retro Radio Bluetooth Speaker with a vintage but the stylish colored appearance

10m wireless distance in open areas

Cell capacity: 2000mAH

Using time length: about 6 hours
4. Back to Old Times in Your 2m2 Working Space
Lofree Candly Ambient Lamp is inspired by the oil lamp in the past. Although Candly Ambient Lamp is for convenient usages, it keeps the nostalgic appearance. It has an adjustable brightness between 1% to 100% that you can use in any circumstances and atmospheres. Back to old times with Mid-Summer Bundle in your 2m2 working space.
Retro design with vintage green color inspired by oil lamp in the past

Adjustable brightness: 1% to 100%

Able to dance with rhythm the Poison Speaker sings
5.Mid-Summer Aroma Stone
Lofree sincerely offers you a gift idea of Lofree Aroma Stone from the EH119 Mid-Summer Bundle. It is a special recipe from Lofree under 20 days and 100 times of testing. In order to build up your own personal romantic 2m2 working space, Lofree affords the Aroma Stone to create the ambient to recall you of the late summer dawn
.
Lofree special recipe takes 20 days and 100 times of testing

Each with 140g

Last for 180 days after fully absorbed
6.Your Expectation in Mid-Summer
Mid-Summer Expectation is designed to be a good atmosphere maker in your 2m2 working space. The speaker, lamp coupled with romantic aroma stones are the perfect match for you to enjoy the time in your 2m2 working space. Just speak out your deepest thoughts and feelings by Mid-Summer Expectation.
Package Content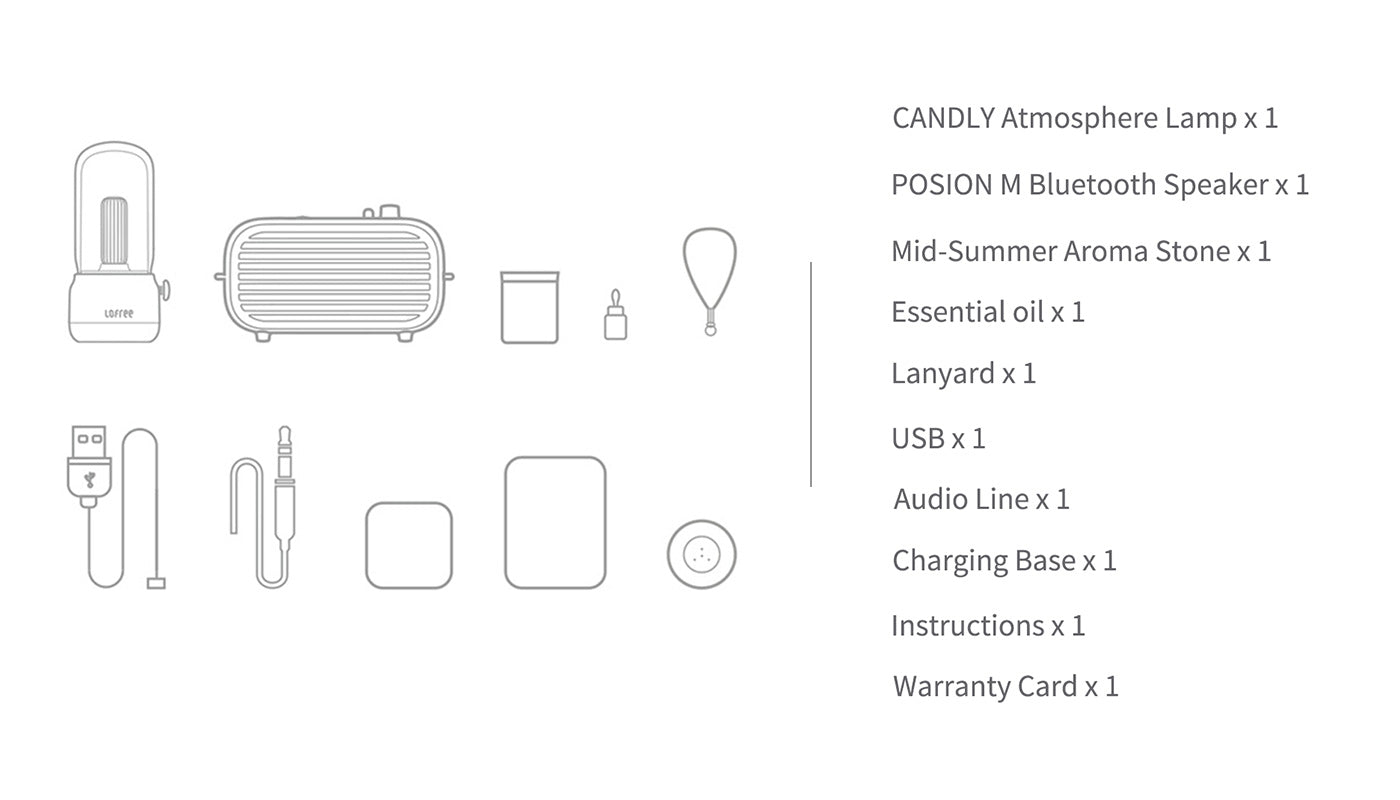 EP203 Bluetooth Posion Speaker Mid-Summer
Product Information

| | |
| --- | --- |
| Brand | Lofree |
| Product Name | Bluetooth Posion Speaker |
| Model | EP203 |
| Wireless Distance | 10 meters in open areas |
| Dimensions | 184x105x70mm |
| Weight | 810g |
| Speaker Specification | 52mm*2 |
| Bluetooth Version | Bluetooth V4.2 |
| Device Name | DOT@LOFREE |
Battery Information
| | |
| --- | --- |
| Power Supply | Built-in lithium battery |
| Capacity | 7.4V 2000mAH |
| Rated Power | 2x10W/span> |
| Play Time | 6 hours |
| Charging Time | About 4-6 hours |
EP203 Candly Ambient Lamp Mid-Summer
Product Information
| | |
| --- | --- |
| Brand | Lofree |
| Product Name | Candly Ambient Lamp |
| Model | EP502 |
| Dimensions | 172x83x66mm |
| Weight | 268g |
| Brightness | 1% to 100% |
| Capacity | 2200mAH |
| Input Voltage | 5V - 800mA |
| Power | 2W |
Mid-Summer Aroma Stone
Product Information
| | |
| --- | --- |
| Brand | Lofree |
| Product Name | Mid-Summer Aroma Stone |
| Dimensions | 50x70mm |
| Weight | About 140g |