1.Description
Lofree Black Gold Collection is here to provide you with 7 different products including a black gold keyboard, a stylish mouse, a minimalist calculator, a Poison speaker, a Candly lamp, a palmer, and a reversible mat. This business black gold collection is elegant, vintage, and useful to help you work and entertains you. Additionally, Lofree will provide 2 memorable gifts for you to enjoy this perfect match of black and gold in your 2m2 working space.
A set with a perfect match of vintage and fashion design is the best multiple office tool you need for your 2m2 working space.2

The mechanical black gold keyboard has 4 levels of adjustable brightness and a LED monochrome backlight. Typos can be avoided under the function of a full N-key rollover. All systems and devices are compatible to help your multi-task on 2m2 office desk.

Stylish mouse with buttons in the shape of a wavy potato chip helps you switch between Windows 10, Mac, and iMac system through 2.4g and Bluetooth more efficiently with low battery consumption.

A minimalist calculator with dot keys, a clearly displayed screen and a scientific layout only requires an AAA battery for 500 hours of work.

Lofree Poison Bluetooth Speaker supports 10m wireless transmission and 6 hours of work with a cell capacity of 2000mAH.

Brightness adjustment of Lofree Candly Lamp is shown as a percentage and can change with the Bluetooth Speaker's rhythm.

A palmer, a reversible mat for the retro keyboard, a memorable keycap, and a Tote bag keep your 2m2 working space comfortable and relaxing.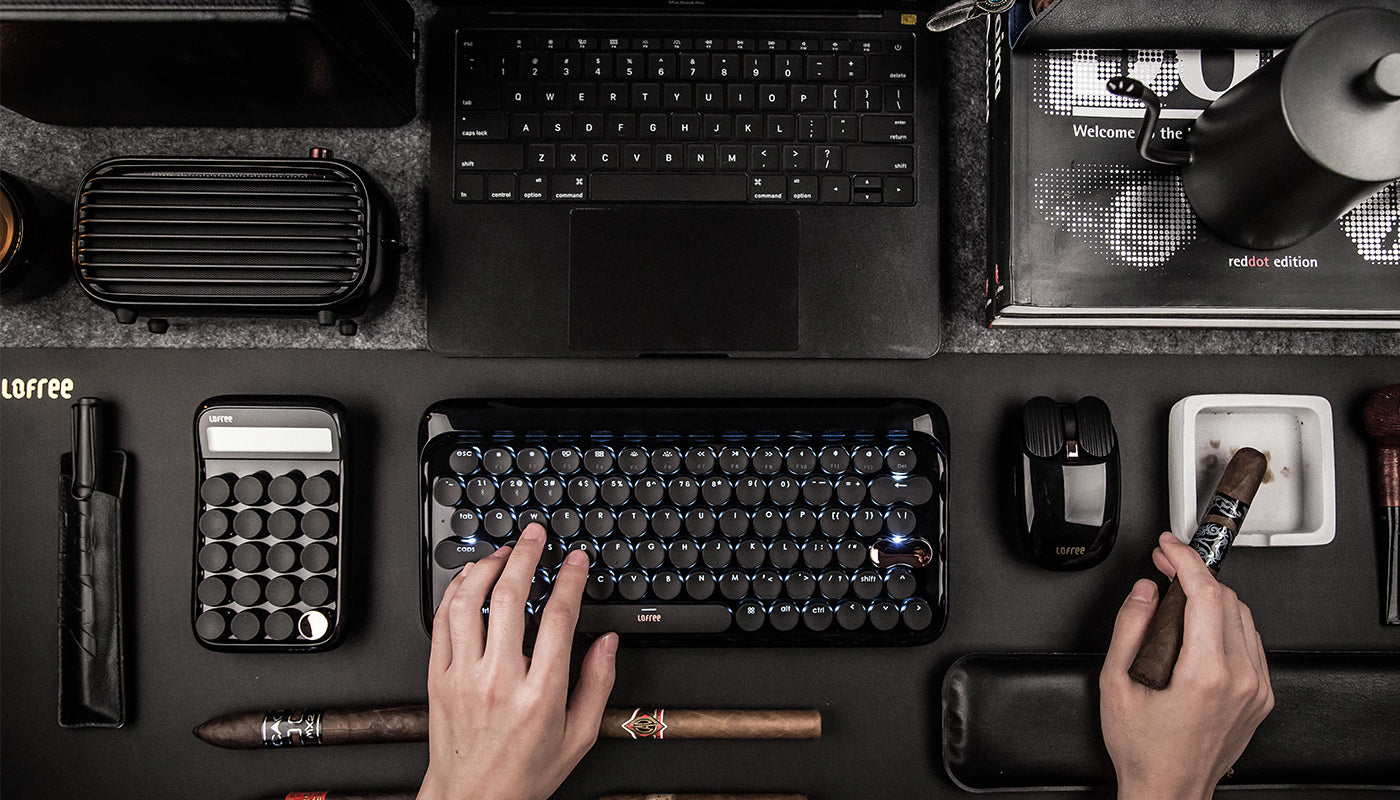 2.Your Black Gold Business Collection
Lofree offers Black Gold Collection with different office tools and entertainment under the Black Gold series design. The Black Gold Collection increases your 2m2 working space's noble level with vintage but stylish products. The impressive black colors and appearances catch your eyes immediately. This is the nostalgic Black Gold Collection that a business person should get for the 2m2 working space.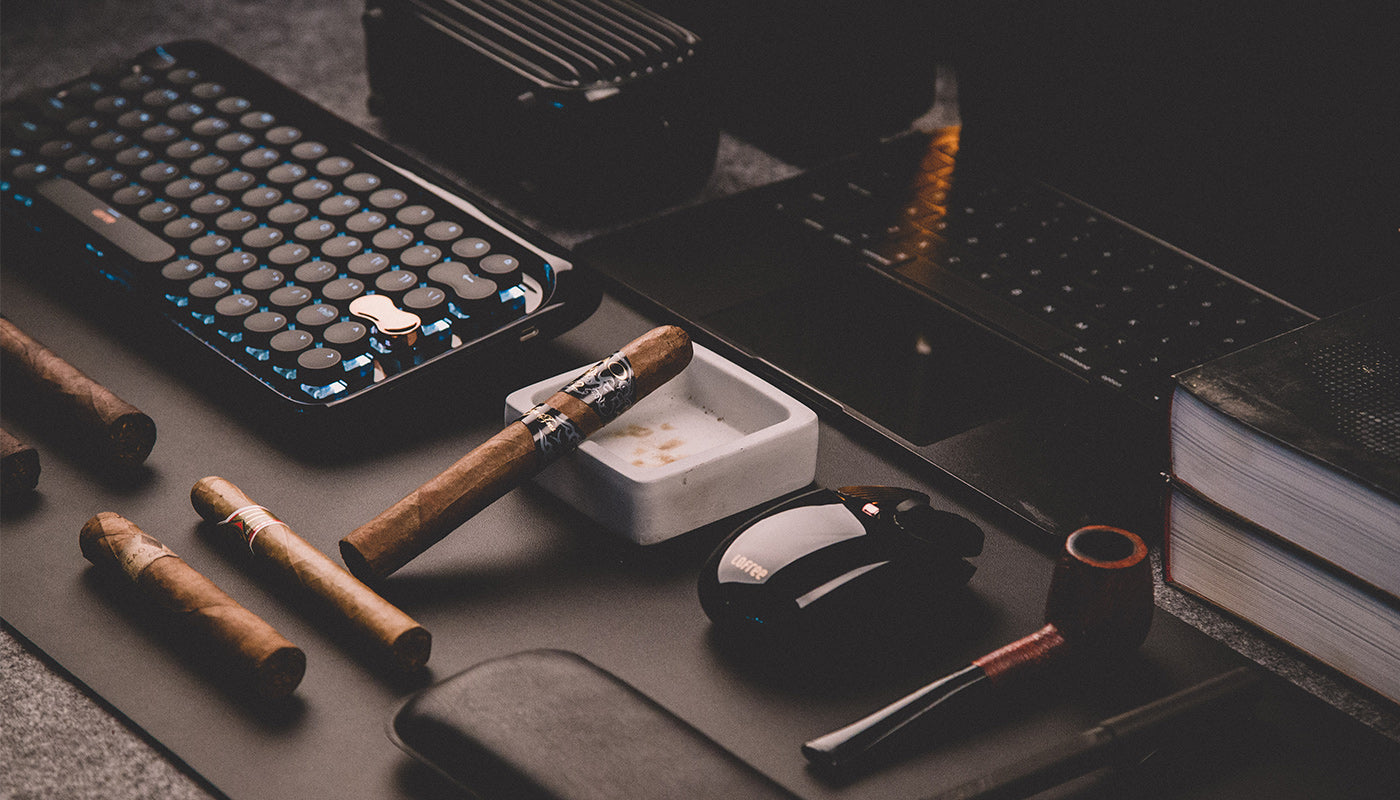 3. Your Best Business Black Gold Keyboard
Black Gold keyboard with mechanical texture and shiny black brings you good visual enjoyment and decorates your plain 2m2 working space. It has a dot keys design and a vintage but trending appearance. The satisfying user experience with enjoyable typing sounds makes your 2m2 working space both commercial and entertaining. With multiple functions, the Lofree Black Gold keyboard is here to pump up your productivity.
Black gold keyboard with a mechanical texture and 79 vintage dot keys

Adjustable brightness at 4 levels of the white LED monochrome backlight

4000mAH lithium battery

Intelligent sleep mode 

Wired/wireless connection is available for smartphones, laptops, and tablets with systems of Windows, IOS, or Android.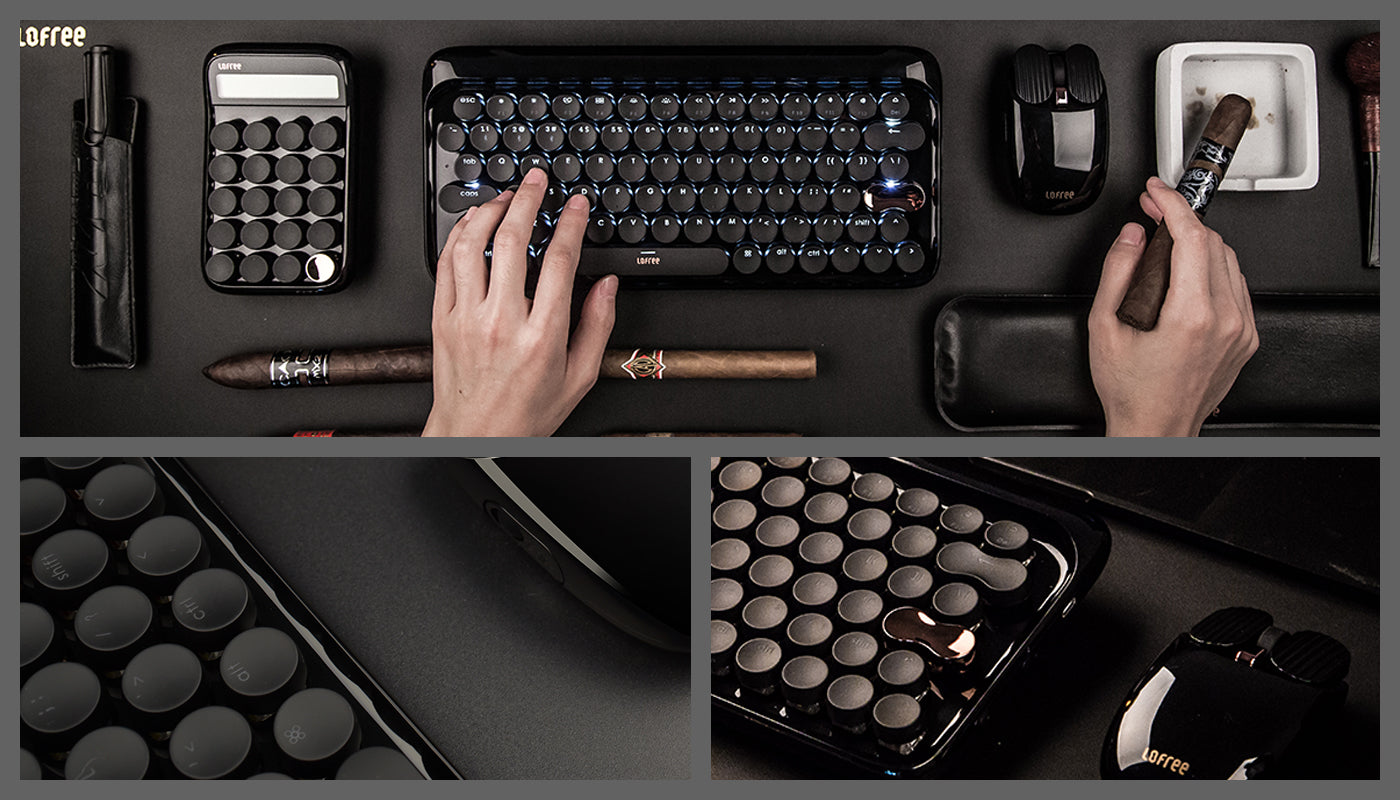 4.Your Stylish Mouse in Your 2m2 Working Space
Lofree Bluetooth Black Gold Maus Mouse is lightweight and portable. The wavy potato chips shaped mouse buttons prevent your fingers from slipping. With a stylish and nostalgic design, the mouse from Black Gold Collection is meant to bring you higher productivity when you work on your 2m2 office desk. The satisfying clicking sounds make you more interesting while using this business Black Gold Collection.
Multi-finger gesture supporting

Connects to 2 devices simultaneously by 2.4g and Bluetooth

Adjustable sensitivity: 800 to 3600

A 3-minute charging for 8 hours of work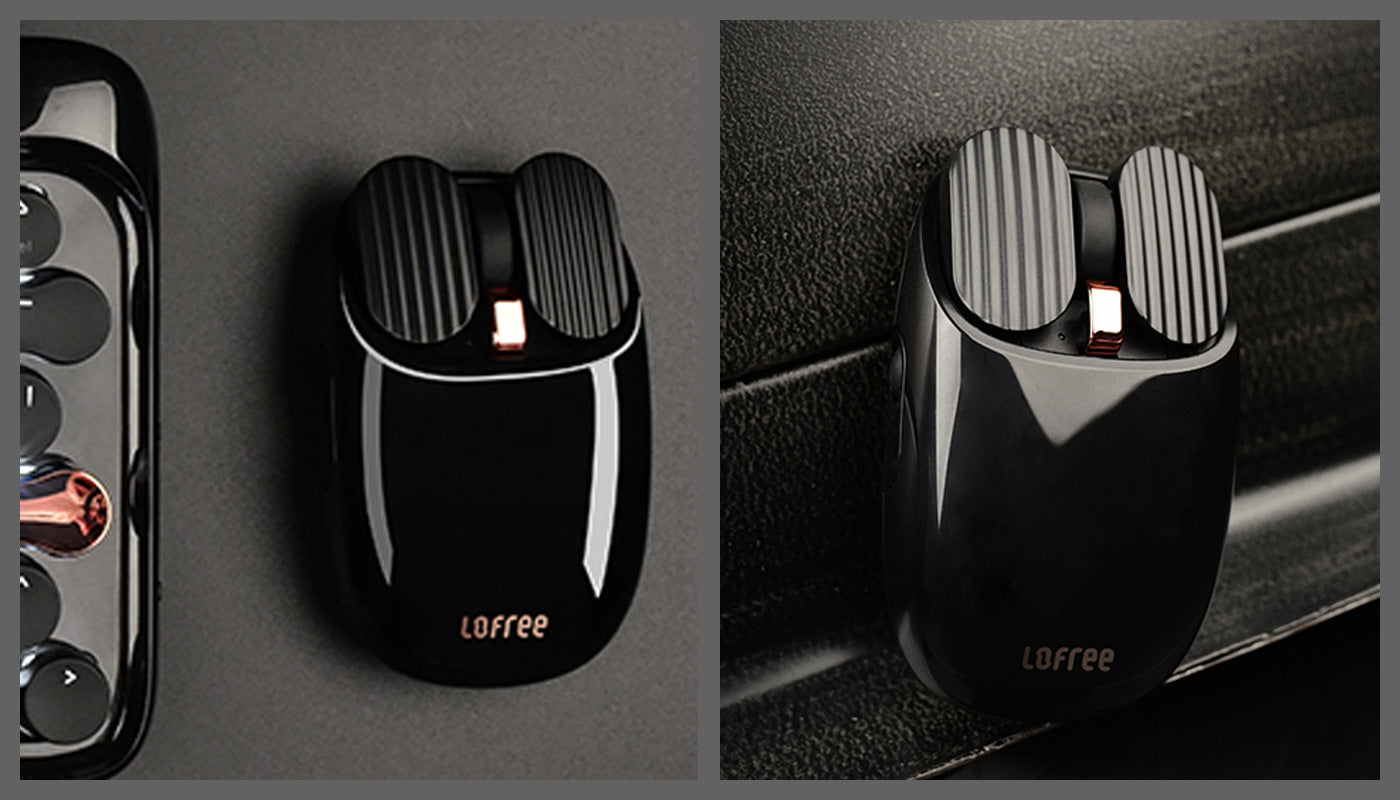 5.Minimalist Dot Keys Calculator
Lofree is pleased to introduce the calculator of the Black Gold Collection, which continues its formal concept with cute and vintage dot keys. It expresses your professional working ability and decorates you as a business person with a funny spirit. It's your best helper with minimalist functions to give you a day-long good mood while you working in your 2m2 working space.
Scientifically suitable layout

Displayed screen with 10 digits

Low power consumption: an AAA battery for 500 hours

 Intelligent sleep mode

Easy to use
6.Sing an Addictive Rhythm by Bluetooth Poison Speaker
Lofree Poison Bluetooth Speaker with black gold color creates a professional business 2m2 working space. Its appearance mixed with classical and modern elements brings you back to your best memories and relieves your tiredness from a day-long work. Grab one, and you will be addicted to the rhythm Lofree Poison Speaker sings.
Retro Radio Bluetooth Speaker with a classical but modern designed appearance

10m wireless connection in open areas

Battery capacity: 2000mAH

Working time: about 6 hours
7.Back to Old Times in Your 2m2 Working Space
Lofree Candly Lamp is inspired by the oil lamp in the past. Although Candly Lamp is for convenient usages, it keeps the nostalgic appearance. It has adjustable brightness and it is able to dance with the rhythm the Poison Speaker sings. Recall the hardworking self from Black Gold Collection in your 2m2 space.
Retro design with vintage green color inspired by oil lamp in the past

Adjustable brightness: 1% to 100%

Able to dance with rhythm the Poison Speaker sings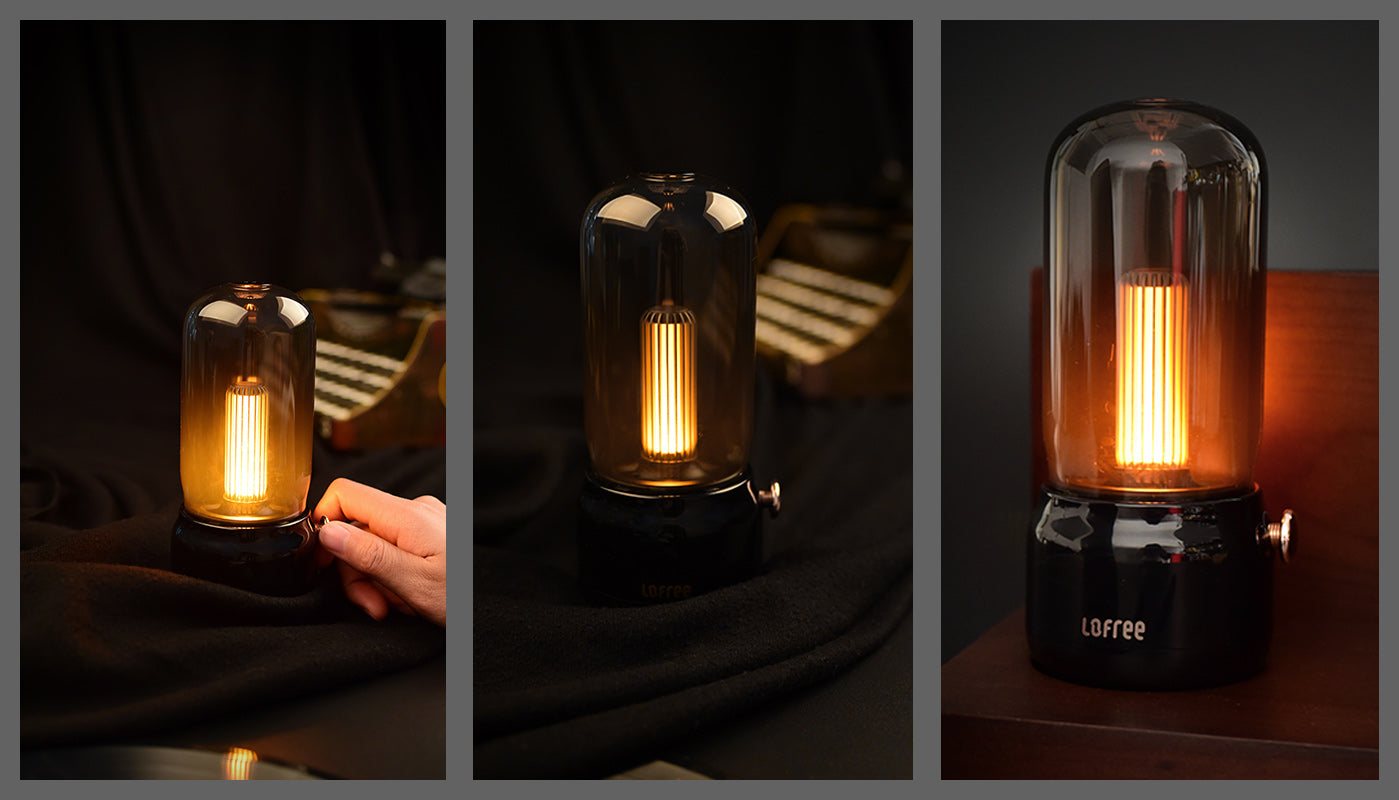 8.Make Your 2m2 Be Your Comfort Zone
Lofree sincerely offers 2 useful tools to increase your comfort while using Black Gold Collection in your 2m2 working space, including a palmer and a reversible mat. It keeps the black and gold color to reflect your professionalism, while a palmer and a reversible mat is to relax you. Additionally, Lofree provides you with 2 meaningful gifts: A C. Medal keycap and a Tote bag. The C. Medal keycap is a souvenir Lofree offers. It commemorates the time Lofree starts and the time you start to spend with Lofree. A Tote bag made by Lofree is to bring you convenience while carrying the Black Gold Collection.
A palmer with perfect angle matches the black mechanical keyboard well

A reversible mat helps the mouse moves smoothly and fluently

C. Medal keycap with the heartfelt design is a souvenir that Lofree sincerely provides

The tote bag has a large storage space you can use
9.Your Professional Business Partner in Your 2m2 Working Space
Black Gold Collection contains 7 kinds of different products you will definitely need in your 2m2 business working space. It improves not only your productivity but also relieves your day-long tiredness after work. Black Gold Collection is here to take care of your mood for whole days. It improves the noble level with its well-design and attractive appearance and it is practical for you to work and relax. Keep your professionalism and relax yourself from Black Gold Collection in your 2m2 working space.
Package Content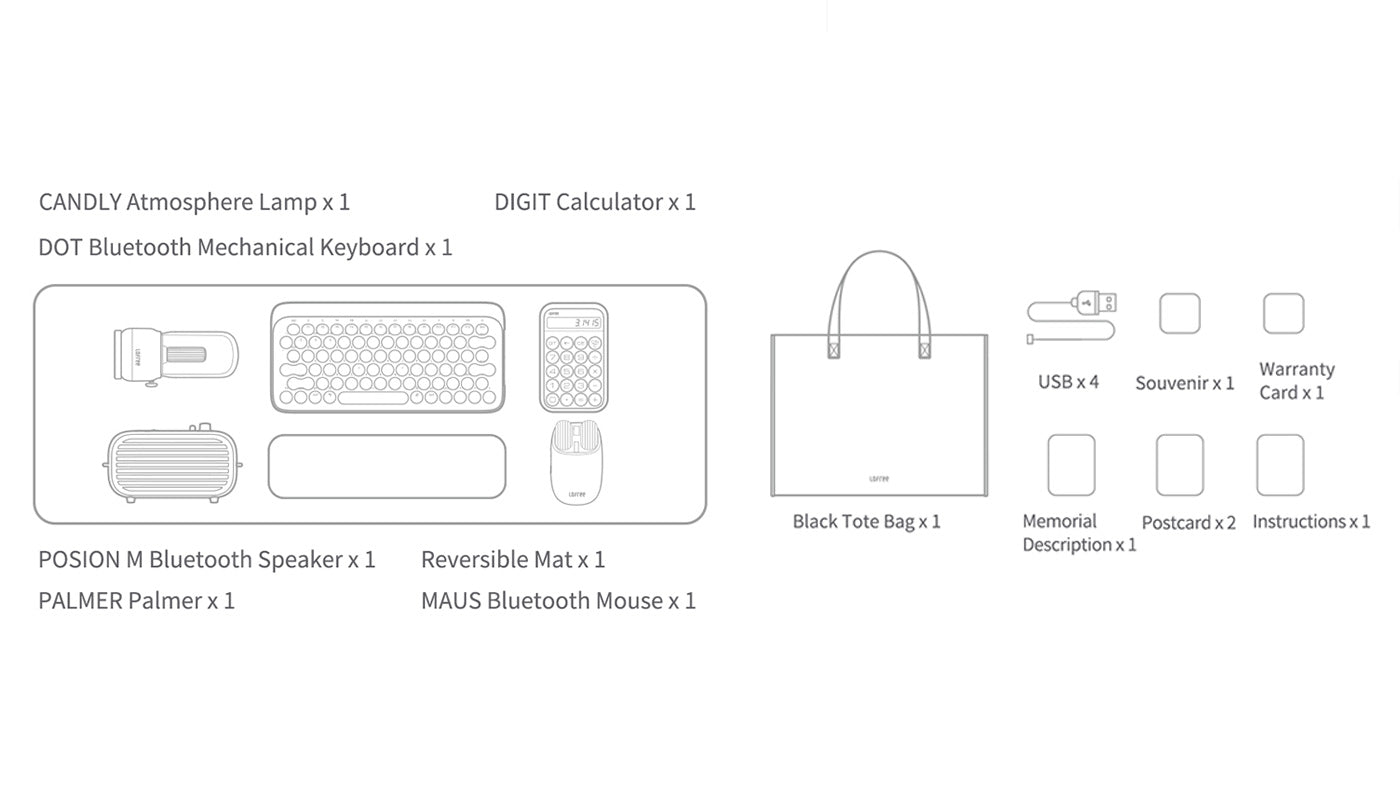 EH112S Bluetooth Mechanical Keyboard Black Gold
Product Information

| | |
| --- | --- |
| Brand | Lofree |
| Product Name | Bluetooth Mechanical Keyboard Black Gold |
| Model | EH112S |
| Keypads | 79 keys, Mechanical shaft |
| Backlight | LED white backlight |
| Dimensions | 306x144.5x30.6mm |
| Weight | 810g |
Battery Information
| | |
| --- | --- |
| Battery Life | 4000mAH |
| Charging Duration | 5 hours (under USB3.0) |
| Port | Micro USB |
Software Support
| | |
| --- | --- |
| Systems | Windows, Mac/IOS, Android for PC, smartphone, and tablet |
| Mode | Wired & Bluetooth |
| Device Name | DOT@LOFREE |
Package Content
EH115 Bluetooth Mouse Black Gold
Product Information

| | |
| --- | --- |
| Brand | Lofree |
| Product Name | Maus Chips Bluetooth Mouse Black Gold |
| Model | EP115 |
| Dimensions | 108x63x34mm |
| Weight | 98g |
| Port | Micro USB |

Software Support
| | |
| --- | --- |
| Systems | Windows 10, Mac, iMac |
| Bluetooth Version | Bluetooth 4.0 |
| Mode | Bluetooth/2.4G |
| Device Name | MAUS@LOFREE |
| DPI | 800/1200/1600/2400/3600 |
Package Content
EH113P Calculator Black Gold
Product Information

| | |
| --- | --- |
| Brand | Lofree |
| Product Name | Calculator-Black Gold |
| Model | EH113P |
| Dimensions | 148xW 92xH 35mm |
| Weight | 162g |
| Keys | 20 keys, Mechanical keys |
| DC | 1.5V |

Package Content
EP203 Bluetooth Posion Speaker Black Gold
Product Information

| | |
| --- | --- |
| Brand | Lofree |
| Product Name | Bluetooth Posion Speaker Black Gold |
| Model | EP203 |
| Wireless Distance | 10 meters in open areas |
| Dimensions | 184x105x70mm |
| Weight | 550g |
| Speaker Specification | 52mm*2 |
| Bluetooth Version | Bluetooth V4.2 |
| Device Name | DOT@LOFREE |
Battery Information
| | |
| --- | --- |
| Power Supply | Built-in lithium battery |
| Capacity | 7.4V 2000mAH |
| Rated Power | 2x10W |
| Play Time | 6 hours |
| Charging Time | About 4-6 hours |

Package Content
EP203 Candly Ambient Lamp Black Gold
Product Information

| | |
| --- | --- |
| Brand | Lofree |
| Product Name | Candly Ambient Lamp Black Gold |
| Model | EP502 |
| Dimensions | 172x83x66mm |
| Weight | 268g |
| Brightness | 1% to 100% |
| Capacity | 2200mAH |
| Input Voltage | 5V - 800mA |
| Power | 2W |

Package Content
Reversible Mat Black Gold
Product Information

| | |
| --- | --- |
| Brand | Lofree |
| Product Name | Reversible Mat Black Gold |
| Model | AH105 |
| Dimensions | 900x320x2.5mm |
| Texture | PU leather |

Package Content