Color Your Summer with Lofree
Lofree Mid-summer Collection is a mechanical keyboard set with avocado color as the main tone and white and greyish green as the supplement under Lofree four seasons series. It not only represents the color of summer activating the vitality of summer, but also reveals the high-level sense of freshness and elegancy when matched with white.
Catch up with this chance and enjoy Up To 20% OFF on your purchase of Lofree Mid-summer Collection this summer.
Lofree Mid-summer Collection includes an avocado keyboard, green wireless mouse, vintage calculator, reversible pad and keyboard twist pad. The relative low saturation of avocado green with gray tone containing reflects a kind of frosted glass like hazy sense, making Lofree Mid-summer Set full of classical aesthetic color. It gives you a noble sense and delights your mood when working.
A retro mechanical keyboard brings soft and comfortable visual effects to make your 2m² workplace more interesting!
Avocado keyboard with ergonomic dot keycap and round corner design is lovely and lively but exudes a retro atmosphere due to its typewriter style design. It is a retro mechanical keyboard, reminiscent of the distant era of using typewriter.
What this typewriter style keyboard uses is the representative axis of the mechanical keyboard - green axis. Light press and strong paragraph sense of green axis accompanied by obvious clatter can bring absolute top-level typing experience for you. The touch of Lofree retro mechanical keyboard will never let you down.
Avocado keyboard has 4 adjustable brightness levels of LED monochrome backlight. When adjusting the backlight to the maximum brightness, the font on the retro mechanical keyboard will show white light, elevating the whole keyboard to a higher level.
The button of green wireless mouse in Lofree Mid-summer Collection is replaced by wavy potato chips, which is novel and unique. The wavy potato chip design prevents slip and 100% supports your high efficient work. In addition, 3 minutes charging of green wireless mouse allows you to work for 8 hours.
The vintage calculator can be used as a number key of the retro mechanical keyboard through Bluetooth connection in addition to being a calculator. With a lovely dot vintage calculator, you will have fun in the boring number operations.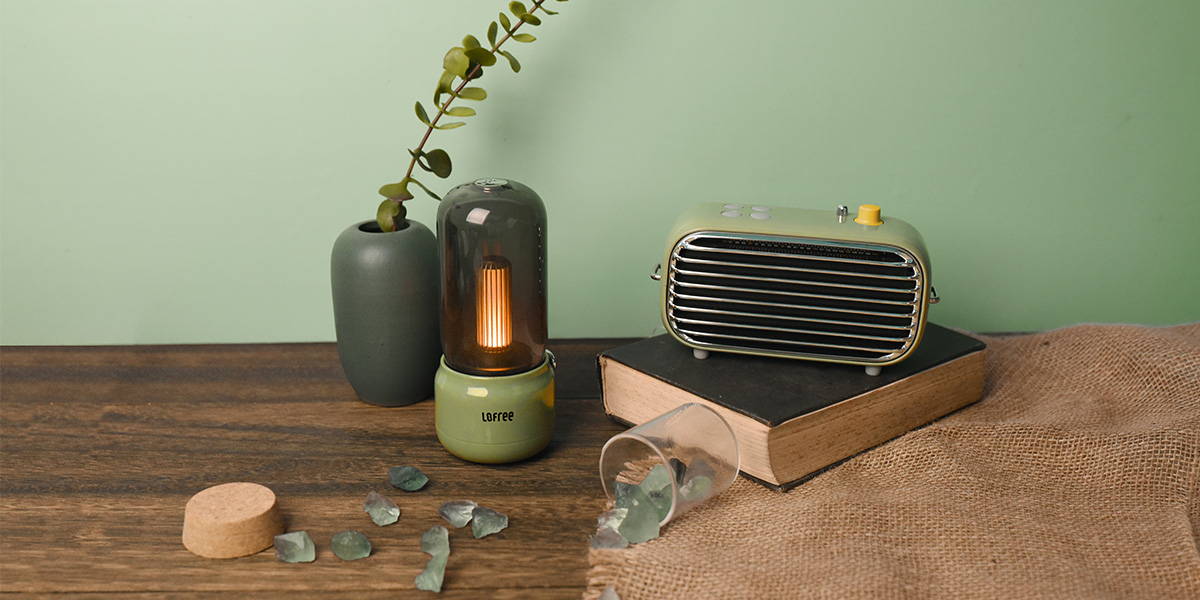 With reversible mats, the overall style of your 2-square-meter desk has come up. Soft keyboard wrist pads can relieve wrist pain when you indulge in typing with the avocado keyboard. Avocado green, the main color of Lofree Mid-summer Collection is to satisfy you while staying alone. Through this attentive design, you enjoy a pure life in a good atmosphere.
More Discount!
UP To 25% OFF on Lofree Mid-summer Collection +an Avocado Fan!
Avocado color and fan are a perfect match in the hot summer. Place this exquisite avocado fan on your 2-square-meter workplace is an enjoyment of the comfort and cool breeze while working. The Lofree avocado fan with adjustable wind force of level 9 can send soft wind below 30dB even at the maximum wind level, which is the gospel of your efficient office!
Spring into action and make an encounter with Lofree Mid-summer Set this summer to grape Up To 25% Discount!